Nigerian protesters have taken to the streets across the country to demand the release of prominent Shia cleric and the leader of the Islamic Movement of Nigeria (IMN) Sheikh Ibrahim al-Zakzaky.
According to media reports, the demonstrations were held in the states of Bauchi, Kano, Yobe and elsewhere on Saturday.
Carrying banners and posters of the Shia leader and chanting slogans, the demonstrators called for the immediate and unconditional release of Zakzaky, his wife and hundreds of his followers.
Zakzaky has been in police custody since Nigerian forces raided his home on December 13 and arrested him after reportedly killing those attempting to protect him, including one of the movement's senior leaders and its spokesman.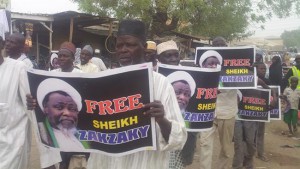 A day before the police raid, Nigerian soldiers attacked Shia Muslims attending a ceremony at a religious center in the northern city of Zaria, accusing them of blocking the convoy of the army's chief of staff and attempting to assassinate him.
Both incidents led to the deaths of hundreds of members of the religious community, including three of Zakzaky's sons. According to media reports, dozens of people are believed to have been killed in the violence, but the Britain-based Islamic Human Rights Commission puts the toll at over 1,000.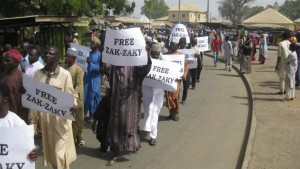 A number of detainees are also reportedly denied access to medical care despite being critically wounded. At least one of the detainees has died of his wounds, according to the IMN.
The Shia cleric is said to have been charged with "criminal conspiracy and inciting public disturbances."