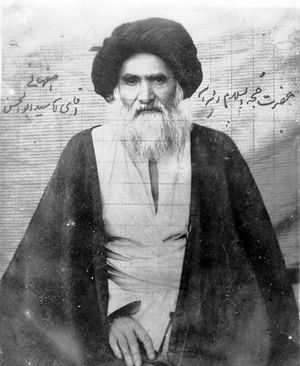 Born and Education 
Ayatullah Sayyid Abu al-Hasan al-Isfahani was born in the Madisa village, one of the villages of Lanjan district of the city of Isfahan. He completed his elementary study in the Nimarud School in Isfahan where he was taught by Mirza Abu al-Ma'ali al-Kalbasi, benefiting greatly from him. He migrated to Najaf al-Ashraf in 1307 A.H. in order to complete his study and attended classes by its great professors.
Ijtihad
He earned the degree of ijtihad in the classes offered by Ayatullah Akhund al-Khurasani. He rose to distinction with Ayatullah Naeeni after the demise of the late Ayatullah Akhund al-Khurasani and Ayatullah Muhammad Taqi al-Shirazi. After the death of Ayatullah Naeeni, he became the only religious authority for most of Shiite lands. Imam al-Khomeini and another group of contemporary jurists commented on his scholarly dissertation (risala) due to its inclusion.
You were also born twice: Once you earned experience and knowledge, and once you acted upon what you had earned!" He, may Allah have mercy on his soul, was characterized by good attributes and characteristics, and his pure soul inspired one to be firm and steadfast for the sake of the Adored One. He surpassed his peers in managing the affairs, in administration and knowledge, and he was generous, articulate, orator, making his classes the most busy and popular among those offered at Najaf al-Ashraf's theological seminary.
Political Activities
He participated in the struggle of the Muslim Iraqi people against colonialism and was banished to Iran together with some struggling scholars. He had honorable stands towards the incidents at the Guharshad Mosque in the holy city of Mashhad.
Demise 
This great scholar joined his Lord on a Monday, the 9th of the month of Dhul-Hijja of 1365 A.H. in the city of al-Kadhimiyya. Addressing his holy body, Ayatullah Muhammad Husayn Kashifal-Ghita made these statements: "Congratulations to you the ascension to your Lord! How happy you have been alive and dead! Your life was joined with management and greatness, making people through it forget the past great ones, following the coming ones.